Hello friends, it's Allie here from Through Her Looking Glass with a deliciously addictive recipe for Christmas Stocking Cookies!
I love having iced Christmas cookies for the holidays, and I've been making this simply rolled sugar cookie recipe since I was a little kid. Christmas Stocking Cookies bring Christmas cheer to cookie exchanges, parties, and special celebrations during the Christmas season. Also, the perfect cookie to thank the jolly man in the red suit on Christmas Eve. (Don't forget the milk!)
You'll need the following on hand:
Christmas stocking cookie cutter, whatever size you like
decorating bag and Wilton #16 star tip
rolling pin
red gel or powdered red food coloring (not water-based)
My tradition has always been to make the dough and bake the cookies on Thanksgiving weekend. (I usually make 5 recipes for the season and freeze most of them unfrosted.)
Chill dough in tightly wrapped plastic wrap for a minimum of one hour.
Christmas Stocking Cookies make such a beautiful presentation. There's something different about these roll-out cookies. They're thin. And light. Crunchy and buttery. The frosting is pure buttercream. Maybe I'm biased (!), but I've never tasted a better frosted Christmas cookie.
Roll the chilled dough thin on a generously floured board or mat. The dough should not be translucent, but nearly – about 1/16″ thick. (Look closely at the picture above. If the dough is too thick it will result in thick cookies that don't hold their shape.)
I cut just one shape to keep the baking and decorating simple. Carefully transfer stockings with a thin cookie spatula to a parchment-lined baking sheet. Chill each pan of cut-outs a minimum of ten minutes before baking. (Very important: this keeps the cookies from spreading too much and losing shape.)
Bake cookies 5-6 minutes at 350° or until edges are just browning. Watch closely. Cool cookies, then freeze or frost. (I freeze the baked cookies, undecorated. Then all season long I decorate for parties as needed.)
Baking tips:
Dough should be well chilled before rolling on a generously floured surface
Roll dough thin, almost translucent, about 1/16″ thick
Carefully transfer to parchment-lined baking sheet with a thin, flexible spatula
Chill cookies on the pan a minimum of ten minutes before baking
Frosting/Decorating Tips:
Butter should be at room temperature
Leave frosting stiffer than you want because the food coloring will thin some
I used a #16 Wilton star tip for the white stocking cuff
Color 2/3 of frosting red; leave 1/3 white
Christmas Stocking Cookies
Addictive buttery Christmas roll-out cookies with buttercream icing.
Serves:
2 dozen 5" cookies
Ingredients
Cookie Dough:
½ cup butter, room temperature
¾ cup sugar
1 large egg
½ teaspoon vanilla
1½ cups flour
1 teaspoon baking powder
¼ teaspoon salt
Butter Cream Icing:
¼ cup butter, room temperature
2 cups powdered sugar
1 teaspoon vanilla
2-3 tablespoons cream or half and half
gel or powder red food coloring
Optional: coarse sparkling white sugar
Instructions
Cookie Dough:
Cream butter.
Add sugar to creamed butter.
Beat in egg and vanilla.
Sift flour with baking powder and salt. (Or mix well with a fork like I do!)
Stir dry ingredients into creamed ones.
Chill dough, tightly wrapped in plastic wrap, for 1 hour.
Roll out thin (about 1/16" thick) on a generously floured surface
Transfer cut out cookies to parchment lined baking sheet.
Refrigerate baking sheet of cookies 10 minutes before baking.
Bake for 6-8 minutes at 350 degrees, until just browning on the edges.
Watch closely at the six-minute mark.
Cool and frost or freeze.
Butter Cream Icing:
Cream butter.
Add in powdered sugar, 1 cup at a time.
Mix in vanilla and cream, 'til it's the consistency you want.
Separate frosting into two bowls: leave ⅓ white, and color ⅔ red.
Stir in red food coloring a little at a time 'til you get the color you like.
Mix well.
Frost stockings red with the butter knife or spatula.
Use a decorating bag and Wilton frosting star tip #16 to make stars on the cuff.
Sprinkle with coarse white sparkling sugar.
Please follow Through Her Looking Glass on Pinterest , Facebook and Twitter handle @thruherglass. Thank you!
If you enjoyed this cookie recipe, here are some links to other favorites on my blog:
Sugared Pecan Pumpkin Ice Cream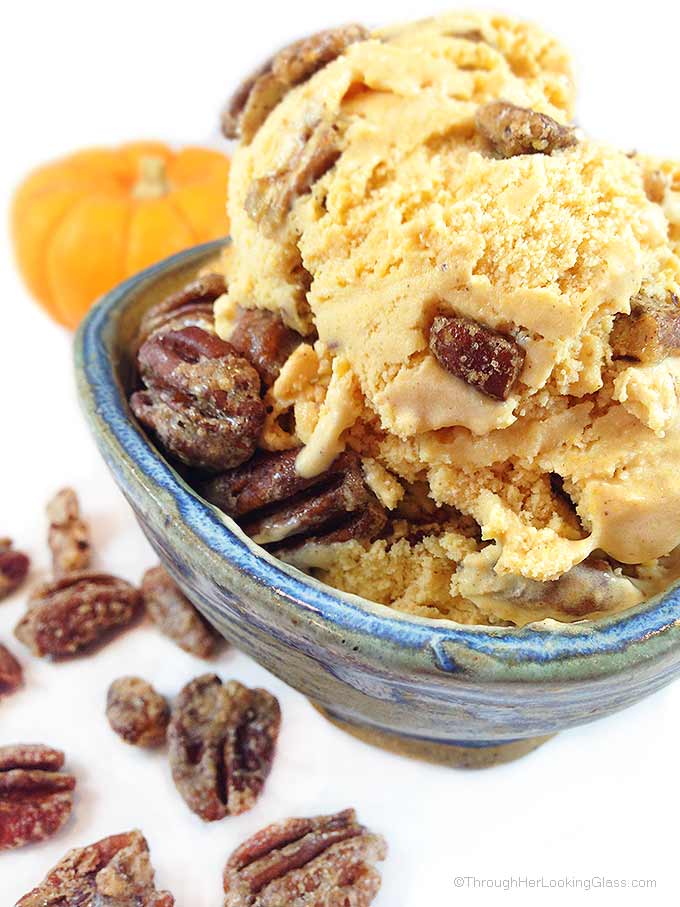 Famous Brick Street Chocolate Cake