Creamy Tomato Basil Soup with hidden ingredients to give your family extra servings of veggies.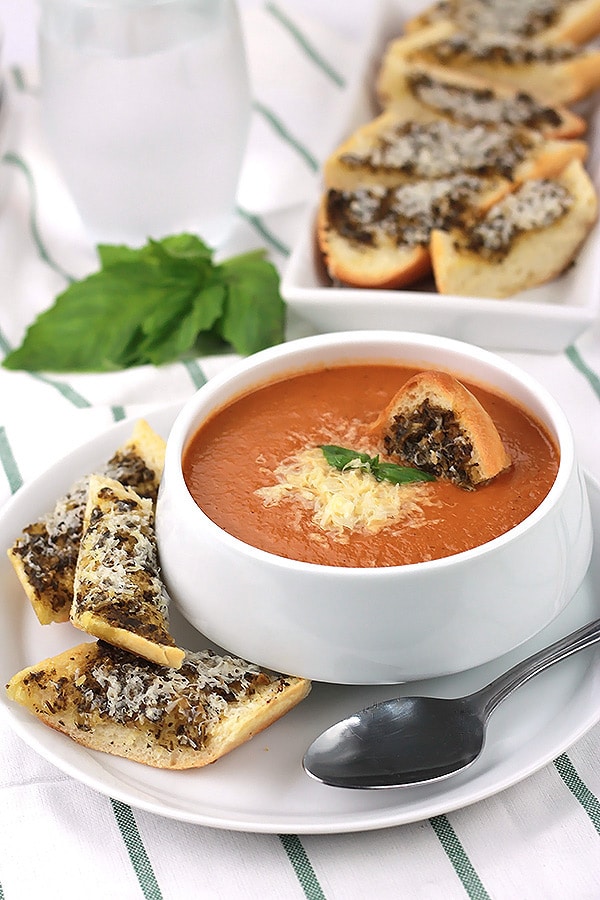 Hello again! It's Celeste from The Whole Serving, I hope everyone is enjoying the holidays with friends and family. The weather is finally getting colder here in Texas and that's perfect for soups like the one I'm sharing today.
I remember when I was a child, my siblings and I would eat lots of creamy tomato soup from a can with a side of grilled cheese.  Oh how the thought of that soup brings back comforting memories. The soup I have for you today is my modern-day version of that childhood soup with an added ingredients to add in extra veggie servings.
The extra ingredient is, wait for it….Butternut Squash and I added potatoes to give the soup its creamy texture.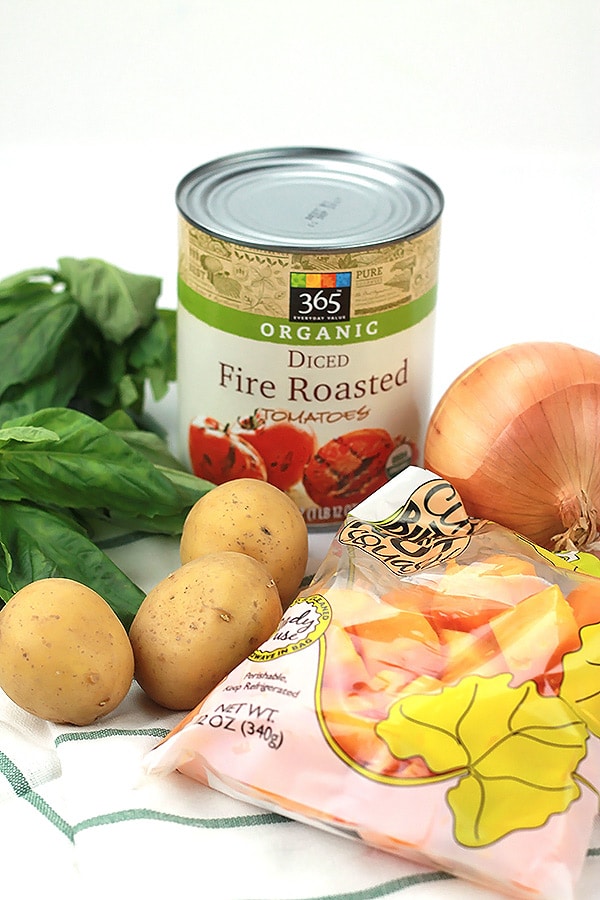 After sauteing the onions and garlic in a bit of olive oil just add the rest of the ingredients and let it all simmer. After cooling a little blend in batches until smooth. At this point you hae the option of adding in milk, cream, parmesan, pesto or nothing at all. I opted for pesto only because I wanted to keep it on the healthier side.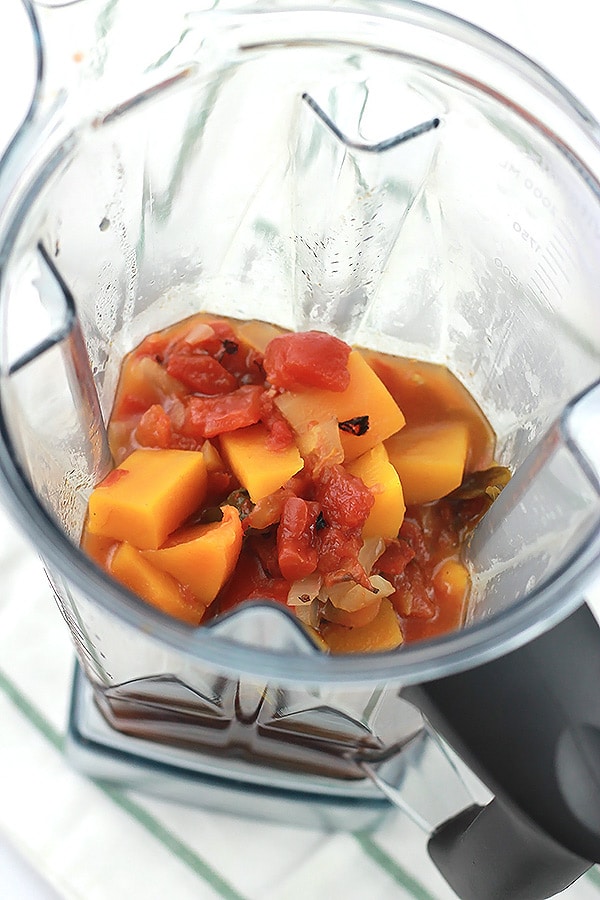 I served my soup with a side of Pesto Toast. It's sliced french bread with a smear of pesto topped off with Asiago and lightly toasted.  The next time you're looking for a comforting soup without that overindulgent feel give this one a try.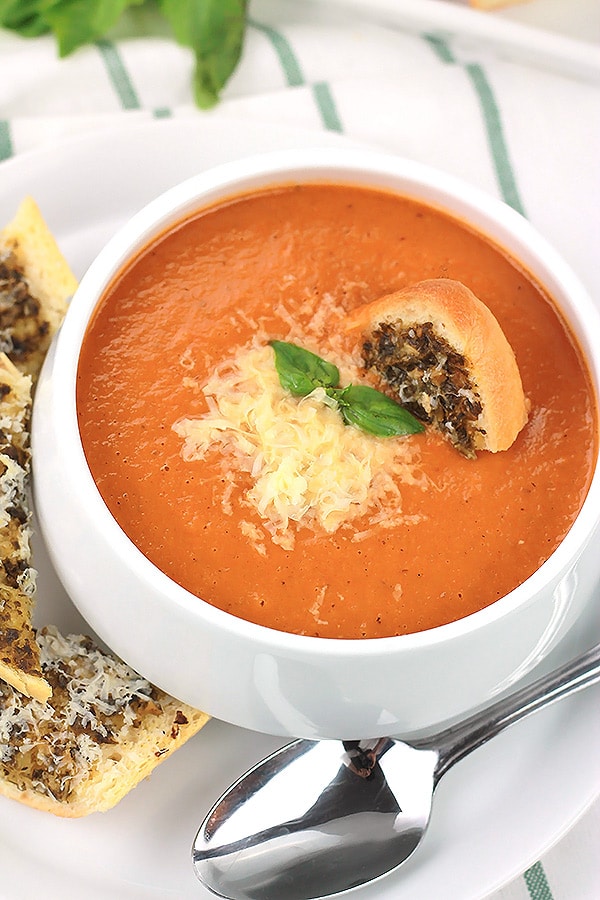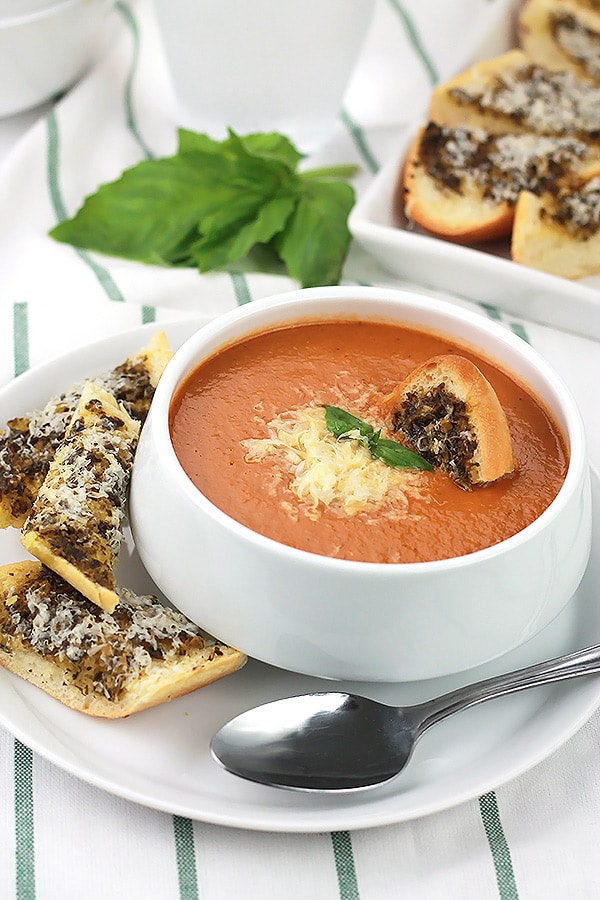 Creamy Tomato Basil Soup
Ingredients
2 tablespoons extra virgin olive oil
¾ cups chopped onions (about ½ medium onion)
3 cloves minced garlic
6 cups vegetable broth
2 28 oz. cans fire roasted diced tomatoes
1 12oz. bag of ready to use diced butternut squash (ipurchased mine from Trader Joe's)
3 small honeygold potatoes, quartered
1 hand full of fresh basil leaves
1 tablespoon of dried oregano
¼ to1/2 teaspoon red pepper flakes (optional)
fine sea salt to taste
1 french baguette
pesto sauce (I used a jare of Classico Pesto Sauce
Asiago cheese
Instructions
In a large stockpot heat olive oil over medium high heat. Add onions and saute until soft and translucent. Add in the garlic and saute until garlic is fragrant, about 1 to 2 minutes more.
Add vegetable stock, tomatoes, squash, potatoes, basil, oregano and red pepper flakes to pot, when it starts to boil reduce heat to medium low and simmer stirring occasionally to prevent sticking.
Taste and add salt as needed.
When vegetables are fork tender remove from heat and cool slightly.
In batches transfer soup to blender and blend until smooth and creamy.
At this point you can blend in crean, milk, parmesan or pesto. I added pesto to my soup.
While soup is cooking pre-heat oven to 350 degrees and prepare bread.
Slice baguette lengthwise, spread with pesto and sprinkle on asiago, place in oven and bake until cheese is melted. Remove from oven and slice.
Serve soup with pesto toast.
Nutrition Information
Serving size: 
1.5 cups
Calories: 
138
Fat: 
4.1
Saturated fat: 
0.6
Carbohydrates: 
24.9
Sugar: 
7.1
Sodium: 
261.5
Fiber: 
6.5
Protein: 
3.6
Cholesterol: 
0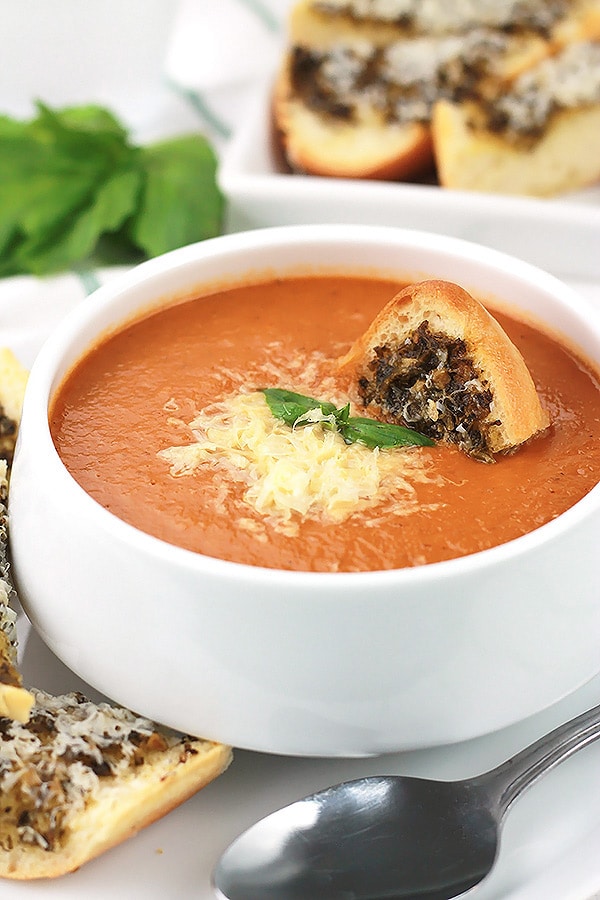 If you like this, here's more you may like.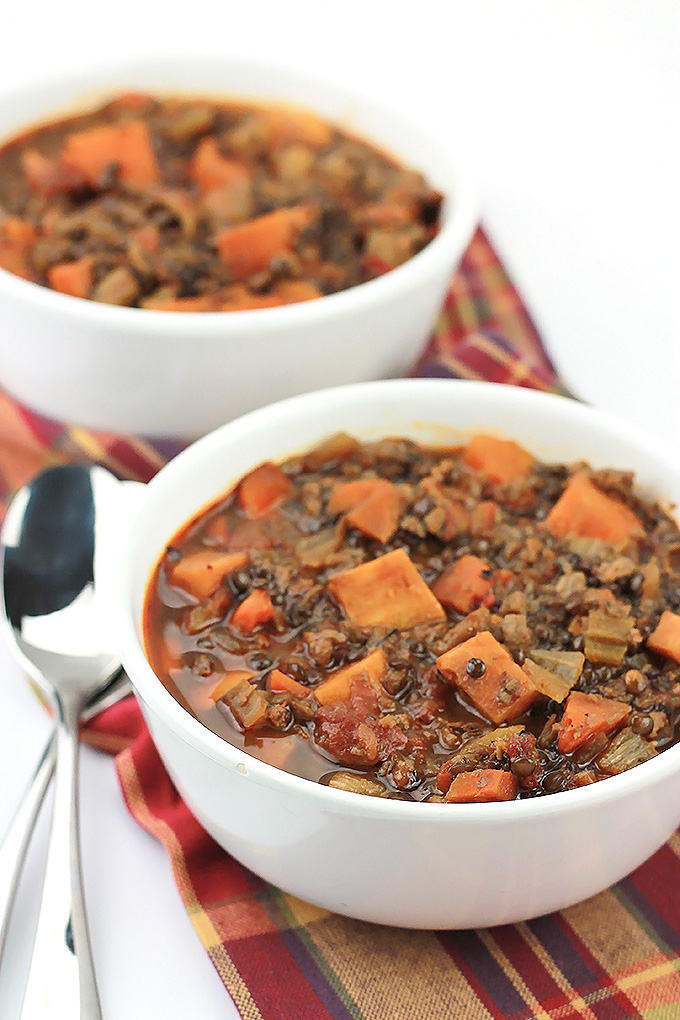 Sweet Potato Lentil Stew